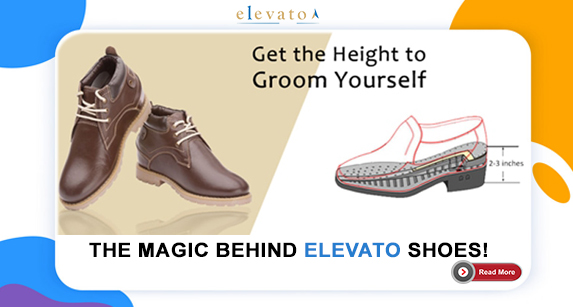 The magic behind Elevato shoes!
Yes – Size does matter
Men who can benefit with a few more inches of height should definitely give Elevato shoes a try. Not only do these height-increasing shoes look good, they also add to one's personality and confidence. You know the saying, 'Look tall, feel tall, think tall.'
Imagine walking into a board meeting full of CEOs, standing tall, emitting confidence and talking your head held high. A few inches of added height can definitely do wonders, not only to your personality, but also your morale. What's more, it's your little secret! Yes, the new range of Elevato formal shoes comes with a hidden insole, meant to increase your height by 2 – 4 inches.
The shoes are made of genuine leather, Italian design and a high quality insole with comfort cushioning, guaranteed to give you long-lasting comfort throughout your day in office. Stand for hours at a business talk, spend your day in the conference room, or have an action-packed day at work; the insoles ensure that your feet breathe and remain fresh throughout your day!
Some of the main features of the well-crafted Elevato height-increasing shoes are:
Ventilated bottom – The bottom helps to absorb impact and at the same time allows your feet to breathe.
Leather ventilated & EVA layer–This additional layer protects the deterioration of the insole and provides aeration.The Expiratory Ventilation Assistance layer helps in advanced aeration, allowing your feet to breathe. It also prevents smelly feet.
Comfort Cushion – The comfort cushion layer is the most important part of the shoe. This high quality cushions mechanism makes this makes it a comfortable choice for long working hours.
PU hidden increaser – This helps in providing the additional height. The insoles have a gradual incline and help to increase height discreetly by 2- 4 inches.
Premium leather – Elevato shoes are made out of international quality, finest leather with a premium finish and Italian design. This gives it a classy look.
Shop now! Get your pair of height-increasing formal shoes and fashionable boots at www.elevatosshoes.com and make your mark in the corporate world.
Elevato –The new brand of men's Height-increasing shoes
When it comes to looking taller, women usually have it easier than men. A pair of high heels not only will make women look taller, but will also make them look trendy and fashionable. Men have always looked for ways to look taller and have often ended being discouraged, because of lack of options.
Fortunately, there is a new solution for men, which can make them look smart and tall. Elevato has launched a new range of height-increasing shoes for men, which helps  to add a few extra inches to your height, discreetly. The shoes come in Italian designs, the finest quality leather, perfect finishing and long-lasting comfort.
#Elevato Oil pull up leather Boots – 3.5 inches
The highlight of the shoes is the built-in insoles, which are made out of a special material, which provides not only height, but also comfort. No high heels. No discomfort.
Elevator shoes from Elevato, is the new formula that more and more men are adopting today. Elevato height-increasing shoes have transformed lives of many short men and helped them to regain their confidence – be it on their wedding day, an interview or an important business conference.
If you are looking for a way to increase your height, then Elevato high heel shoes is the perfect solution for you.
These elevator shoes are designed to absorb the shock and helping your feet relax while you walk.  The shoes are designed for long-lasting comfort throughout the day. Another benefit of these shoes is that they will actually make you look slimmer, since your weight will be distributed over a taller frame.
Not only will your height increase, your general appearance and attractiveness will also be enhanced.
To get your very own pair of Elevato's height-increasing shoes, all you need to do is just login to the Elevato website: www.elevatoshoes.com  and select from a wide range of height-increasing, high heel shoes and browse through the formal collections of formal lace-ups, formal slip-ons and boots made of genuine leather and international design. Elevato offers free shipping throughout India and even delivers internationally.
#Elevato Black Oxford Classic with leather soles – 3 inches